Government center accused of misusing tax money
By GEORGE F. WILL

MANCHESTER – The president of a statewide firefighters union and the head of the Local Government Center went toe-to-toe Wednesday over whether the center misused money intended for health care by directing it to other programs it offers.
"I am surprised and shocked that you would sit here and actually say you thought it is appropriate to ...misuse taxpayer-funded money that is intended for health care," Professional Firefighters of New Hampshire president Dave Lang told Maura Carroll.
Lang said firefighters, teachers and state employees will picket the LGC's annual conference at the Radisson Hotel later in the day to drive home its message that they want the practice to stop now, and they want the money intended for health care premiums returned to member municipalities.
Carroll, executive director of the LGC, said she is "disappointed" that Lang is not willing to wait for the Bureau of Securities Regulation to release its final report on its investigation of LGC practices.
"Clearly, we are going to abide by whatever comes out of that. But there have been no findings," Carroll said.
The exchange happened as Carroll and Lang sat side by side in a small conference room during the LGC's annual conference.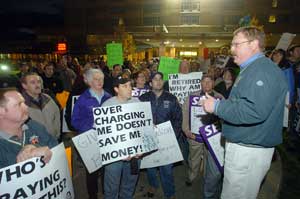 David Lang, right, president of the Professional Fire Fighters of New Hampshire, speaks to firefighters, state employees, teachers, and their families, outside the Local Government Center conference at the Radisson in Manchester on Wednesday. (MARK BOLTON)
The LGC is a quasi-governmental agency that handles health, property and liability and worker compensation insurance for cities and towns statewide. Of these, Carroll said the health trust "is the biggest line of business we have."
The LGC has been focused on reducing health care rates to its members by reducing claims, the number one driver of health care costs, she said. To do that, the LGC has put money towards wellness programs and training, such as one program that trains employees to be safe drivers.
"We have to make sure that we are doing everything that we can to keep people healthy because that is what's going to reduce rates and that's what we're about. We're in competition," Carroll said.
But Lang claimed LGC practices have been driving health care costs up and making it difficult for firefighter unions to negotiate new contracts.
"We are at loggerheads with our employers, their members. Contract after contract is being held up because of the high costs of health care," he said. Lang said towns can't go elsewhere for insurance because the LGC has exclusive agreements with the three health insurance carriers in the state.
Lang asked Carroll to return money to member municipalities that was intended for health care, but directed to other programs. Portsmouth already has asked the LGC to return $282,000 it paid for health insurance premiums, but were not used for this purpose.
"I think you are not giving the money back because the money has already been spent," Lang said.
The Bureau of Securities Regulation last month released findings of its preliminary investigation that raised questions about whether the LGC corporate structure is legal and whether it properly holds about $100 million in insurance reserves. The bureau also reviewed LGC spending on catering, resort and hotel bills.
Lang said his group also is taking its message public now because it hopes to persuade LGC members to make changes at its annual meeting Thursday.
http://www.unionleader.com/article.aspx?headline=Government+center+accused+of+misusing+tax+money&articleId=47af765c-ee15-473d-84eb-c76fed753424