IAFF Article NH Fire Fighters Surprise Sick Fire Fighter With Special Gift
New Hampshire Fire Fighters Surprise Sick Fire Fighter With Special Gift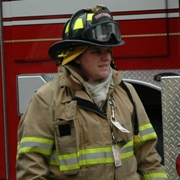 July 20, 2010 – Portsmouth, NH Local 1313 fire fighter Sarah Fox recently came back from a family vacation to find her backyard unrecognizable. Her children's old swing set had been removed, a new and improved one built in its place, flowers had been planted and two walkways had been built.
Fox soon learned it was the work of her fellow Local 1313 fire fighters. "She is suffering from terminal cancer," says Local 1313 President Rick Condon. "Back when Sarah was well, she had talked a lot about building a playground for her kids. One of our members, Russ Osgood, organized this project as a special surprise for her."
Fox was diagnosed with breast cancer on October 9, 2007, just hours before giving birth to her twins. She already had one daughter and two stepchildren, bringing the family size to seven.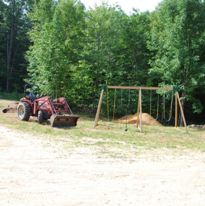 Before
Her cancer went into remission, but months later she began experiencing pain in her hip. Fox went back to the doctor and discovered that the cancer was back, but this time it was in her bones.
Local 1313's first action was to use its relief association – the Portsmouth Firefighters Charitable Association – to raise money to offset medical expenses. Local 1313 members sold helmet and vehicle decals and collected donations from as far away as Ireland to generate more than $70,000.
When fire fighters heard the family was leaving on vacation, it was the perfect opportunity to build the new playground in the Fox's backyard. Fire fighters built the play set from scratch, getting many of the materials donated from area businesses. Fire fighters used a flatbed truck to transport the finished product to the Fox home.
After
"We could have given her more cash and that would have been great, or we could have sent her family to Disney World," says Local 1313 fire fighter Russ Osgood. "But now when she's sick and doesn't feel like going anywhere, she can sit on her porch and watch her kids play with this gift."
Fire fighters say the look on Fox's face made it worth it. "She was really overjoyed," says Condon.

Visit the Portsmouth Firefighters Charitable Association web site for regular updates on Fox.
This article can be found on the IAFF Website: http://www.iaff.org/Comm/SpotLight/10Stories/072010PortsmouthSwingset.htm