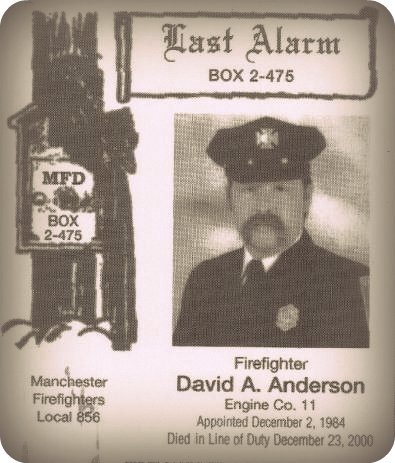 On Thursday, December 23rd
at 1100 Local 856 will be having
a ceremony to remember the 10
year anniversary of the line
of duty death of Firefighter
Dave Anderson of Engine Co. 11.
We request that all members
who wish to attend assemble
at Headquarters at 1030
hours. Dress is class A uniform,
white gloves. It is anticipated
that the ceremony will last
approximately 20 minutes.
All personnel are encouraged
to attend.

The Wild Rover is planning to do a
breakfast Thursday am before the memorial and the proceeds
will go to the Santa Fund in Dave's name. The Shaskeen Irish Pub
on Elm Street Manchester has offered us the back room for after
the memorial. They will be offering drink specials.