PFFNH Charity
The Professional Fire Fighters of New Hampshire Fallen Firefighter Family Fund (The 4F Fund) was established in 2002 after receiving a $500 donation from the Mr. Tux Company, after they raised monies for September 11th and donated the monies to the FDNY funds, and felt they should do something similar locally. The 4F fund was then established so that in the event of a Line of Duty Death, the PFFNH could provide immediate assistance to the family. Additionally these funds are used to send the family to see thier loved one's name go on the IAFF Fallen Firefighter Memorial In Colorado Springs, and to provide a Christmas gift to the children, so they are not forgotten. The Fund is registered with the state of NH as a charitable trust, and has received 501(c) 3 status from the Internal Revenue Service. In September of 2003, we had our first golf tournament with the proceeds going to the 4F Fund, and this event has become an annual tournament, that quickly sells out each year.
For more information on the 4F Fund or to make a donation, please call Secretary-Treasurer Jenn Myers at 603.223.3304
---
Fallen Firefighters Family Fund Golf Tournament
Can't make the tournament this year but you would still like to help?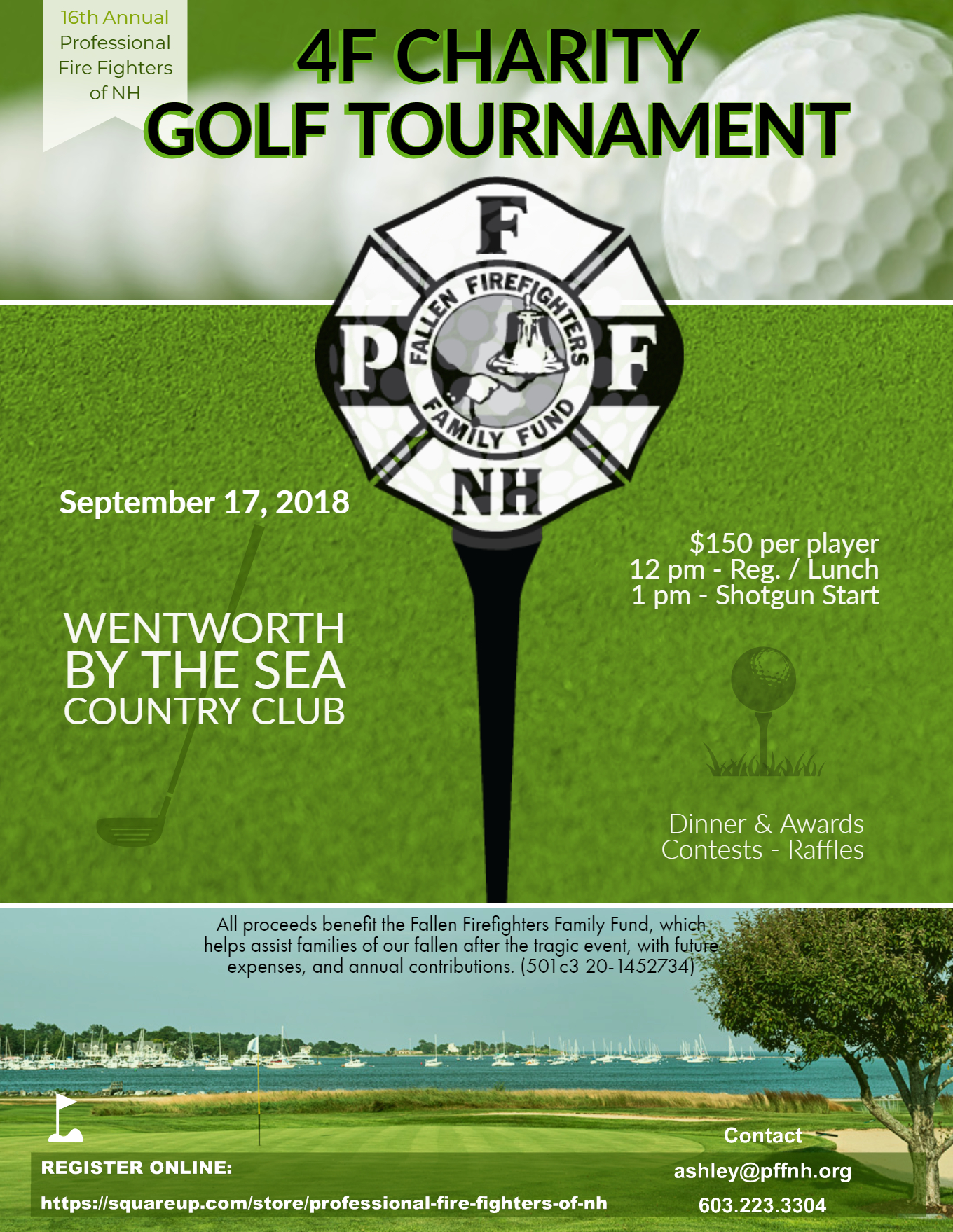 As always, all of the proceeds will benefit the 4F Fund which provides assistance to families in their time of need. Any donations of goods, services, or financial contributions will be greatly appreciated. No donation is too small and any help will contribute to this important tournament.
The 4F Fund was established to help the families of our brothers and sisters who made the ultimate sacrifice and provides expenses immediately following the tragic event and future expenses for the benefit of the fallen firefighter's family. Sadly, this fund has been helpful due to the dangerous nature of our job. While we hope for each of us to go home safely each day, we need to be prepared to take care of our own in the incidences that such tragic events become a reality. The fund has applied for and received from the IRS 501 (c) (3) status; therefore all donations are tax deductible.
Download:

4F Invite 2018 (reduced size).pdf
4F Gaming Nights
Have fun and help us raise money for the PFFNH Fallen Firefighters Family Fund. This fund was set up to help our fallen Brothers and Sisters families when they make the ultimate sacrifice in the Line Of Duty.
This is a public event. Doors open at 11 am, gambling from 12 pm until 1 am. Happy Hour food deals from 4-7 pm. If you can't make the Casino Nights and wish to donate you can mail a check to:
PFFNH - 4F 43 Centre St Concord NH 03301 or at www.paypal.me/PFFNH4F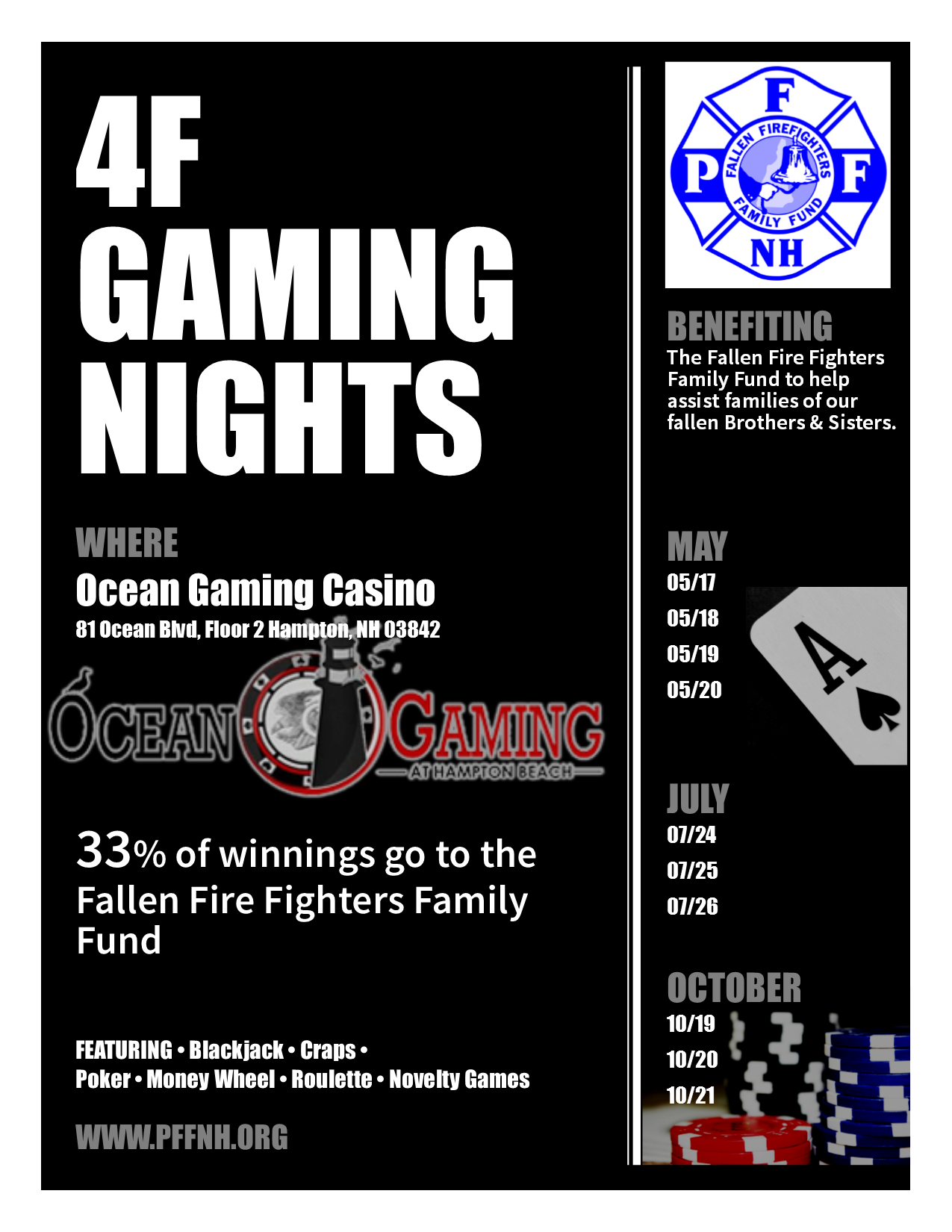 Inner Earth Creations PFFNH Glassware
PFFNH glassware is now available at
20% of your PFFNH purchase goes towards the Fallen Fire Fighters Family Fund (4F Fund)
personalization also available
PFFNH Shot Glass Logo 1 PFFNH Shot Glass Logo 2
(2.5 oz) starting at $10 (2.5 oz) starting at $10
PFFNH Beer Mug Logo 1 PFFNH Beer Mug Logo 2
(25 oz) starting at $15 (25 oz) starting at $15
PFFNH Wine Glass Logo 1 PFFNH Wine Glass Logo 2
(13 oz) starting at $12 (13 oz) starting at $12
Page Last Updated: Jul 25, 2018 (06:59:00)